Willem Kalf
- 'Still life with drinking horn' about 1653
The combination of elements in still-life paintings can have profound implications for the paintings meaning. Dutch 17th century still-life pictures frequently contained messages about the fragility of life and the onset of corruption. These combine with a sense of opulence, splendours and successes of international trading and maritime prowess. Such features can be seen in the detailed works of
Willem Kalf
and
Pieter Claesz
.
Sam Taylor Wood is an artist, photographer and film maker. Her 2001 Film/animation 'Still Life' has the visual look of a 17th Century Dutch still life. Sequences of still photographs are taken over a period of time to show the fruit slowly decaying. This is shown as a piece of video art in a gallery space - it is almost displayed like a painting on the wall. It is similar to time lapse photography used to capture the
growth of a plant
- who move at a completely different pace to ourselves.
One of the great scandals of the modern age is "built in obsolescence". A product is no longer designed to be mended or maintained; the consumer is forced to
throw it away
and buy a new one - while manufacturers gleefully count their profits. The computer industry has led the way in this, and it is computers that are the subject of French photographer Valerie Belin's 'Palettes'. They are a series of 6ft tall black and white prints that feature mournful stacks of abandoned hardware that Berlin photographed in a dump on the outskirts of Paris.
The columns are not her own arrangements; Belin shot the stacks of monitors, oscilloscopes and hard drives just as she found them, arranged on fork lift palettes. Blown up to life size and deprived of context by the black velvet background against which she shot them, the stacks look like weird
ziggurats
for the digital era.
"I use a large photographic plate to produce a very high definition image," she says." It means you get a strong sense of surface of the objects - the texture. Each one is a
'vanitas'
, based on the 17th century still life's that were allegories for the transience of life. Computers are objects that are part of everyone's lives, and this is the moment of their demise. Each tower is like a jigsaw, made by hand. And this is the moment when man triumphs over this machinery - when man destroys the robot!"
Adolphe Braun - 'A Hunting Scene' 1867
One Summers day in 1826 Nicephore (Joseph)
Niepce
created the image above. This Grainy image is thought to be
the first permanent photograph
and it had an exposure of over eight hours. It is too simple to say Niepce invented photography because the photographic process has undergone so many significant modifications since then (most famously
Fox Talbot
and
Daguerre
1839).
The invention of a device that could allow anybody to record the world in perfect detail would revolutionise how we see ourselves, how we communicate and how we make art. Without Photography Modern art, film and the Internet would not exist – or at least not as we know them.
Another one of Niepce's earliest images was of a table – a traditional
still life
. It is a time honoured theme in Art that would still be revisited by future artists. During the 18th century
Chardin
produced beautiful painted still lives of simple Kitchen Utensils. There is great poetry in Chardin's ability to bring such importance to such humble things.
Niepce was simply continuing a long tradition – what else would you do with a camera other than make images in the tradition of Painting? These two early photographs show photography's two directions - as
a force for modernism
and connected to the history of painting.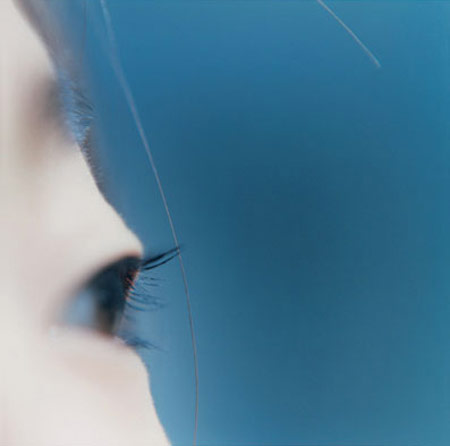 Rinko Kawauchi
is a contemporary Japanese photographer who creates beautiful and elegant images that find the beauty in the everyday. Kawauchi uses a Minimum Depth of Field (for example f/2 – a large hole) which results in only a fraction of the image being in focus – these images have a shallow depth.
Kawauchi explores the poetry of the common place – a dead wasp on a window sill, a brief glance of the eye and a piece of chicken hanging over a table. These are none events – the kind of thing we may notice briefly and possibly dismiss or contemplate in a day dream.
The everyday has been a fascination for many artists – the things they immediately experience as part of their existence.
Jean-Baptiste-Simeon Chardin
William Henry Fox Talbot - 'The Open Door'
Roger Fenton - 'Still Life with Fruit and Decanter' 1860
Early photographic pioneers used still life partly because of the tradition of painting (this is the same reason a photograph is square or rectangular and not round - because of canvas frames and
the golden rectangle
). The long exposures needed with early processes lent themselves to static still life objects. However, soon painting and photography would develop through experimentation with still life.
Edward Weston 'Nude' 1936
Robert Rauschenberg
The influence of Evans is everywhere in modern photography - as is the photographic evolution of the Still Life.
- Michael Kimmelman
Martin Parr photographs as if he is collecting and he focuses of the small details of life. In his 1995-99 Series 'Common Sense' he focused on minor trashy elements of everyday life - lipstick marks on a cup, finger marks on buttons or a cup of tea on a table cloth. He uses a ring flash to create bold, saturated colours giving his work the look of the hyper real. Does Parr have a genuine affection for his subject matter or is he poking fun? Does he reveal our own prejudices by presenting us images that create a certain reaction? Arguably he is somewhere in the middle - or neither - he just records and collects.
In our modern consumer world we rarely 'Make do and mend' - we just use things and discard them. A chair is designed for a person to sit on - it isn't whole when not in use. The chair has legs like us - when it is abandoned it looks like a injured creature that has been abandoned. A carpet slumps in a corner of an alley like a frail old man. These discarded objects were photographed on the streets of Southwark in south east London by Guy Batey. If you walked past them they could be easily missed and ignored. However, when gathered together and presented (with a perfect title) they take on a life of they own. The photographs has a simple, quite quality and, as the title suggests, a melancholy feel.
Sophie Calle became a cleaner so she could get into people's hotel rooms. In the series she photographs a room, photographs their personal items and mentions if they have been moved and writes a diary throughout the guests' stay, deducing what she can about them by what they leave in their rooms e.g.
"Room 25 " Thursday 19. Noon. He is gone. He has left his orange peels in the wastebasket. Three fresh eggs on the windowsill, and remains of a croissant which I polish off. I shall, miss him."
Richard Heeps
Irving Penn 1975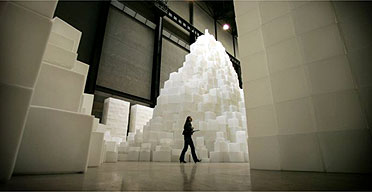 Rachel Whiteread looks at many ignored areas -
the space under a chair,
the space in front of a book case,
Rachel Whiteread
"Sequel IV"
, 2002, Plaster, polystyrene and steel
or the space around a light switch.
Rachel Whiteread, Untitled (Twenty-Four Switches) 1998
Rachel Whiteread deals with negative space - the space under a chair, in front of a book case or in an empty room. In 'Embankment' Whiteread used the empty space inside a card board box -
giving form where there isn't any
. In Tate Moderns Turbine Hall, she created a gigantic labyrinth-like structure, entitled EMBANKMENT, made from 14,000 casts of the inside of different boxes, stacked to occupy this monumental space. The form of a cardboard box has been chosen because of its associations with the storage of intimate personal items and to invoke the sense of mystery surrounding ideas of what a sealed box might contain.